2023.09.26

hololive production Announces Appearances at ANIME NYC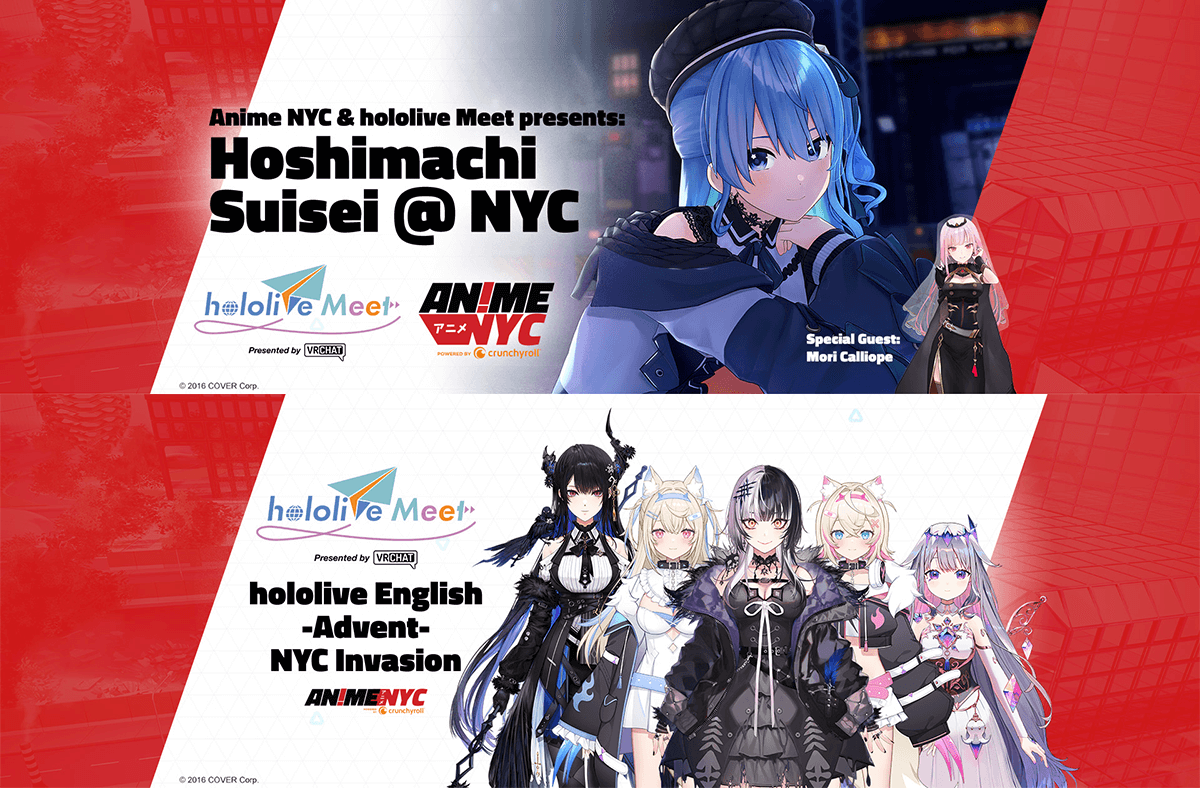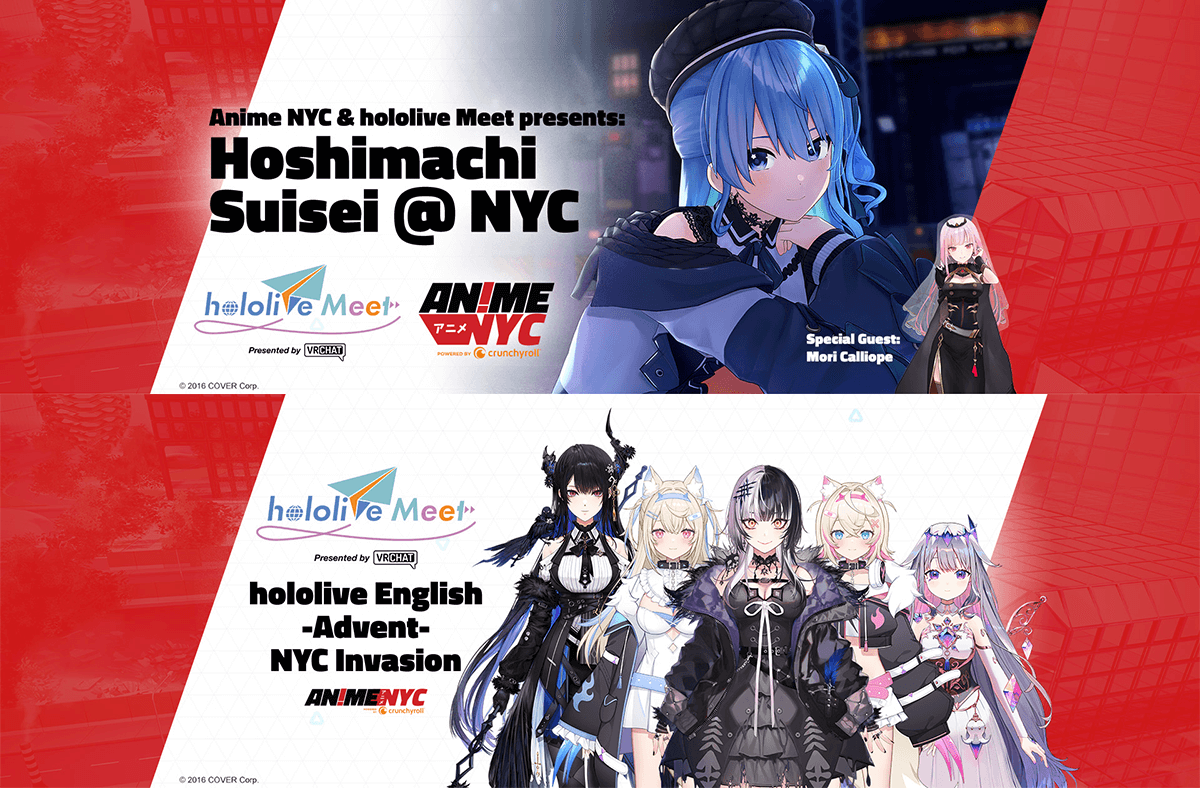 Tokyo, JAPAN — COVER Corporation (Minato-ku, Tokyo, Japan, CEO: Motoaki Tanigo) announced today the participation of hololive production at Anime NYC Powered By Crunchyroll, and will together host a historic first for this November 17th – 19th at the Javits Center in New York City.
hololive production performance and appearance at Anime NYC Powered by Crunchyroll
Anime NYC & hololive Meet presents: Hoshimachi Suisei @ NYC with special guest Mori Calliope
The first performance in the United States by hololive Generation 0 superstar Hoshimachi Suisei with special guest appearance by Mori Calliope from hololive English -Myth-, on Friday, November 17. Joining the songstress on stage as a guest performer will be the popular, Mori Calliope from hololive English -Myth-. Fans can look forward to an exclusive performance by the powerful duo.
hololive English -Advent- NYC Invasion
The first panel appearance of hololive English -Advent- on Saturday, November 18.
hololive English -Advent- will be making their first full team panel appearance at
Anime NYC : Shiori Novella, Koseki Bijou, Nerissa Ravencroft, Fuwawa Abyssgard, Mococo Abyssgard
The presence of the hololive production talents above, marks their first ever appearance in a US convention; fans can expect a powerful performance by Hoshimachi Suisei, and an engaging panel debut by the full members of hololive English -Advent- during the 3 day event. In addition to the appearances above, hololive production will be exhibiting this year together with VRChat. Fans can expect to see their favorite talents streaming live to their booth on the expo floor only at Anime NYC. This hololive programming is a part of the larger hololive Meet Presented by VRChat. For more information on hololive Meet, visit https://hololivemeet.hololivepro.com/.
Further details of hololive production at Anime NYC will be announced at a later date.
"We're extremely excited to partner with hololive production for these exciting offerings for fans at Anime NYC," said Anime NYC Show Director MK Goodwin. "We are looking forward to making history at Anime NYC and bringing these exclusive experiences for hololive production and VTuber fans to enjoy right here in New York City."
"We are grateful to be able to partner with Anime NYC to bring the performances of our talents of hololive production to the VTuber fans on the East Coast of the United States. We are planning a variety of events for everyone to enjoy, and we hope that everyone who comes to visit will have fun," commented Motoaki Tanigo, CEO of COVER Corporation.
Anime NYC, running November 17-19, 2023, in New York's Javits Center, brings over 60,000 passionate fans together with leading creators and companies from the heart of the Japanese entertainment world. Anime NYC will play host to three days and nights of unique exhibits, extensive panels, and exclusive screenings.
For more information on Anime NYC, visit https://animenyc.com/