2023.06.23

COVER Corporation announces partnership with Tokyo Otaku Mode for hololive Meet 2023 New Merchandise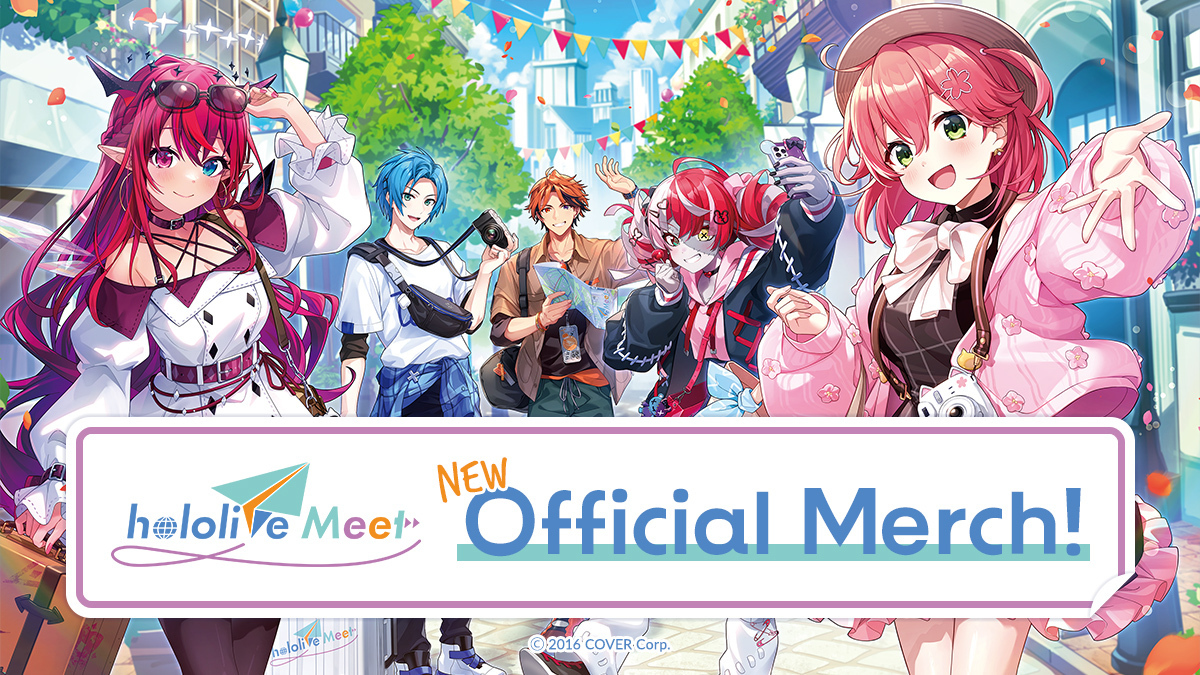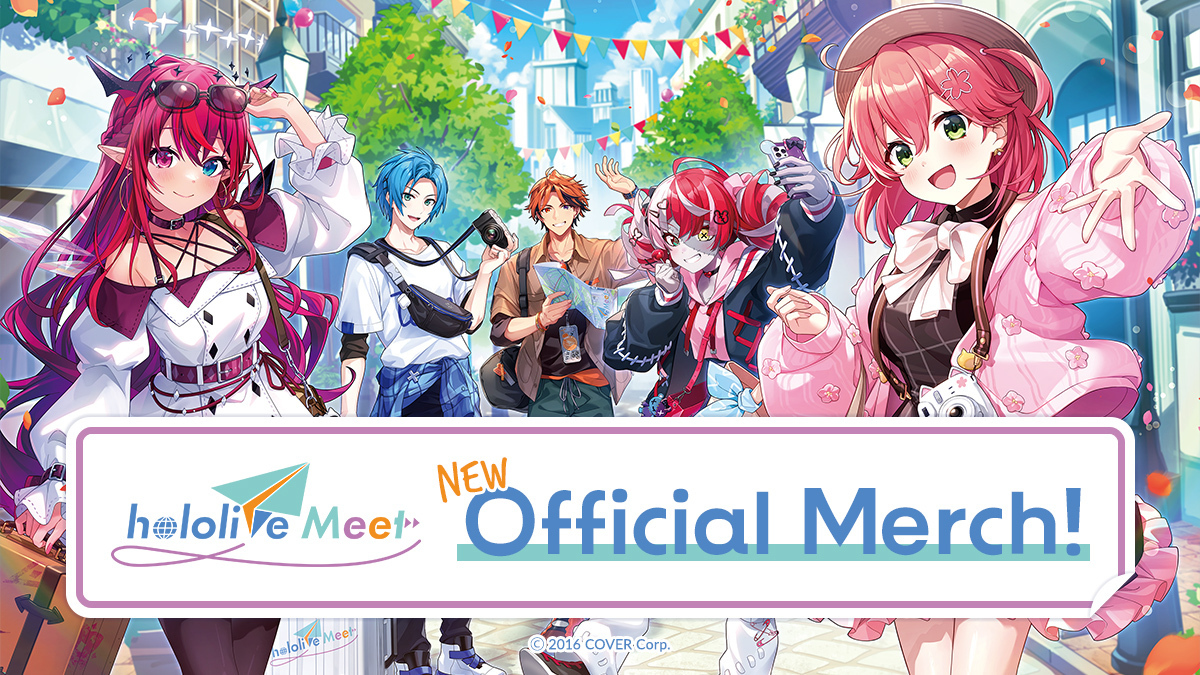 Tokyo, JAPAN — COVER Corporation (Minato-ku, Tokyo, Japan, CEO: Motoaki Tanigo) announced official partnership with Tokyo Otaku Mode Inc. for the release of new merchandise of hololive Meet 2023 Ambassadors from July 1st, 2023 (PDT).
Tokyo Otaku Mode, hololive Meet 2023's Official Partner, will release original merchandise featuring Sakura Miko (hololive), Kureiji Ollie (hololive Indonesia), IRyS (hololive English), Yukoku Roberu (HOLOSTARS), and Regis Altare (HOLOSTARS English) who have been appointed as hololive Meet 2023 Ambassadors. Merchandise will be based on the key visual illustration by Pisuke and Ordan.
The new merchandise will be available for pre-order on the Tokyo Otaku Mode online shop from Saturday,July 1st, 2023 at 10:00AM (PDT). Selected items will be available at the Kinokuniya Bookstore booth at Anime Expo 2023 in Los Angeles, and at Kinokuniya overseas stores.
Tokyo Otaku Mode Online Shop
Order Period: From Saturday, July 1st, 2023 10:00AM (PDT)
Website: https://otakumode.com/shop/pickup/hololive_meet2023
Anime Expo 2023
Event Dates: July 1st – 4th, 2023 (PDT)
Venue: Los Angeles Convention Center
Exhibit Number: #3700 (Kinokuniya Bookstore Booth)
Website: https://www.anime-expo.org/
Kinokuniya Overseas Stores
Sales start at Kinokuniya overseas stores in (in alphabetical order) Australia, Malaysia, Singapore, Thailand, United Arab Emirates, and the United States after the mid-July 2023.
Product Lineup
■Tradable Tin Badges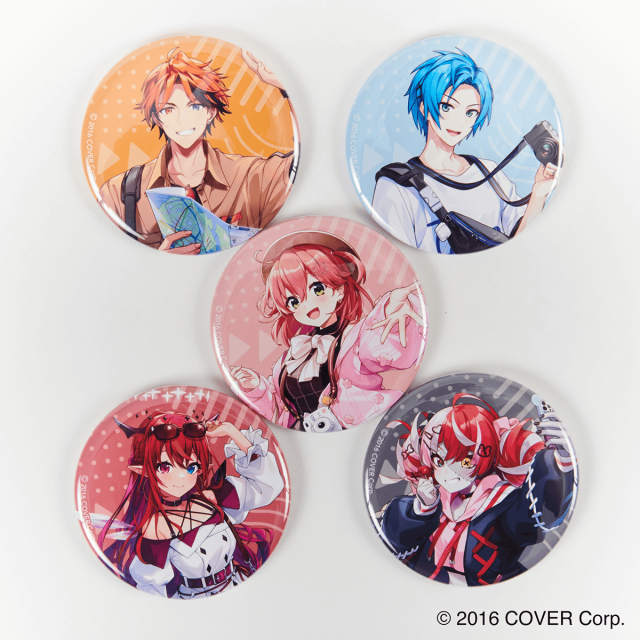 These tin badges use special visuals drawn by the five ambassadors gathered from each group. They are tradable and you will randomly receive one out of the five Ambassadors.
■Social Media Style Acrylic Keychain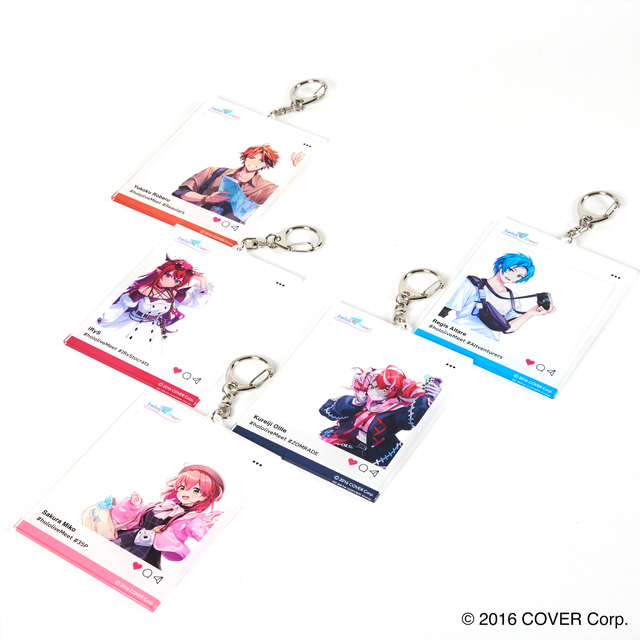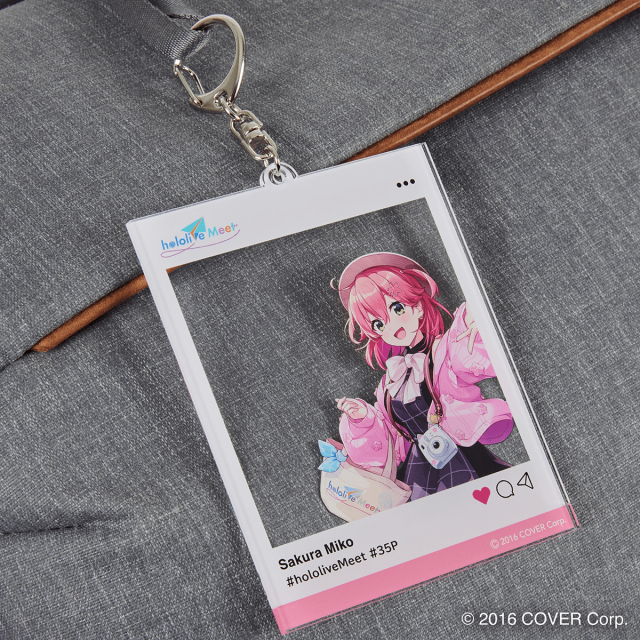 This keychain was designed to look like a social media photo frame. It's the perfect hololive Meet merch because you can take a picture with the ambassadors when you overlay the clear part with events you're participating in or your favorite scenery. You can use it freely to take event and commemorative photos, limited only by your own imagination!
■Keychain w/ Fandom Name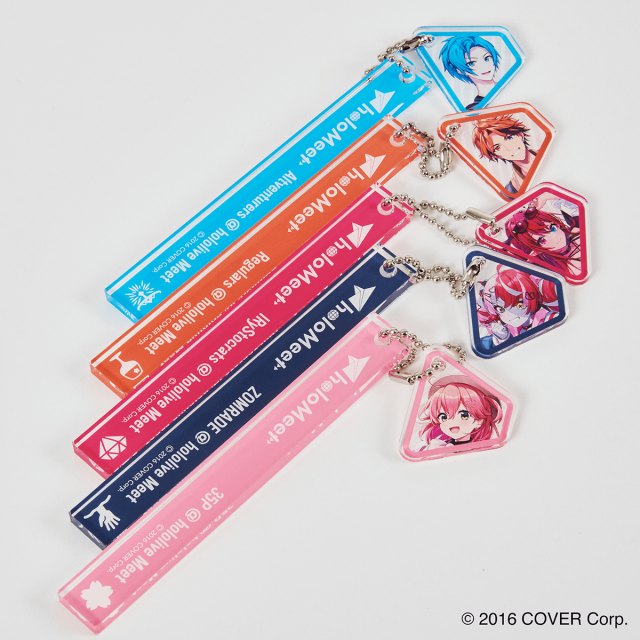 This keychain has a set of face and name parts. In addition to the hololive Meet logo, the name parts have each Ambassador's motif icon and fandom name printed on them.
■Tapestry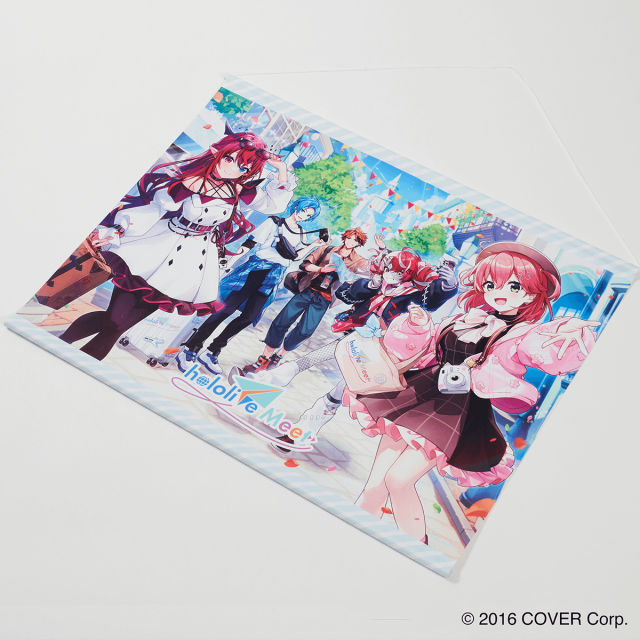 An original hololive Meet illustration that looks like a commemorative photo sent by the five Ambassadors on their trip has been turned into a B2-sized tapestry.
■Acrylic Smartphone Stand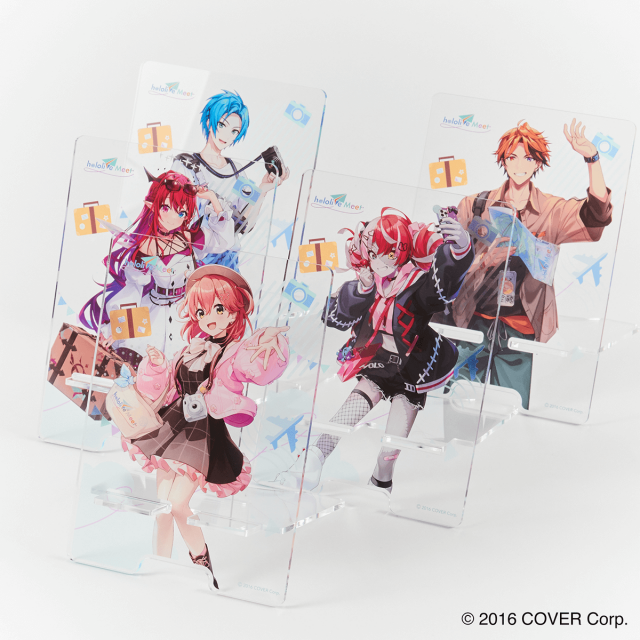 This acrylic smartphone stand features the Ambassadors dressed casually while enjoying their trip, and is the perfect place for you to rest your smartphone while watching live streams. The stand supports portrait and landscape orientations for regularly-sized smartphones and allows you to watch live streams while charging your phone.
■Tote Bag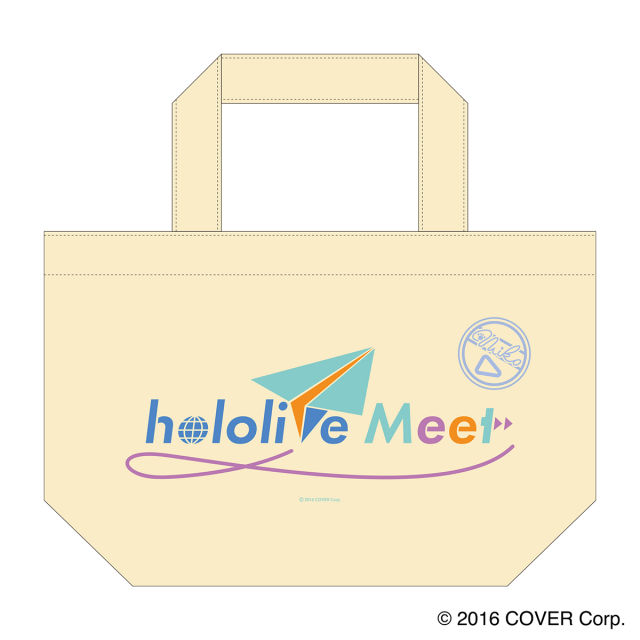 The tote bag that ambassador Sakura Miko holds in an original hololive Meet illustration has been recreated. It's the perfect size for taking out on walks, holding your lunch box, or carrying around your everyday necessities.
■Key Visual T-shirt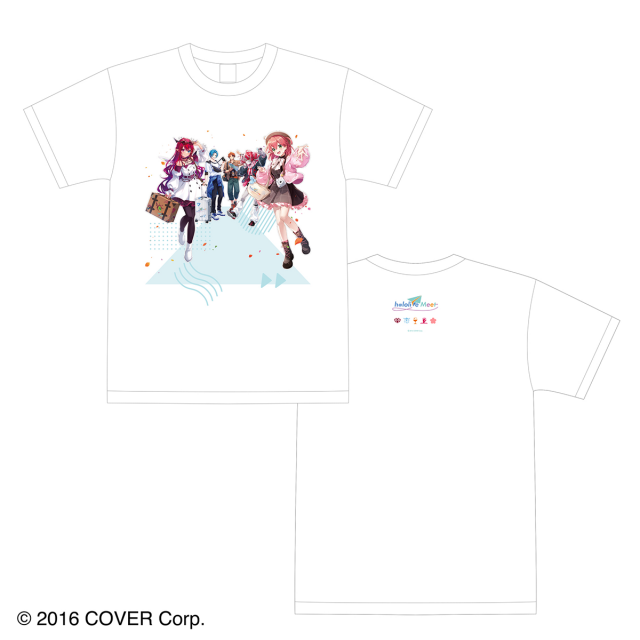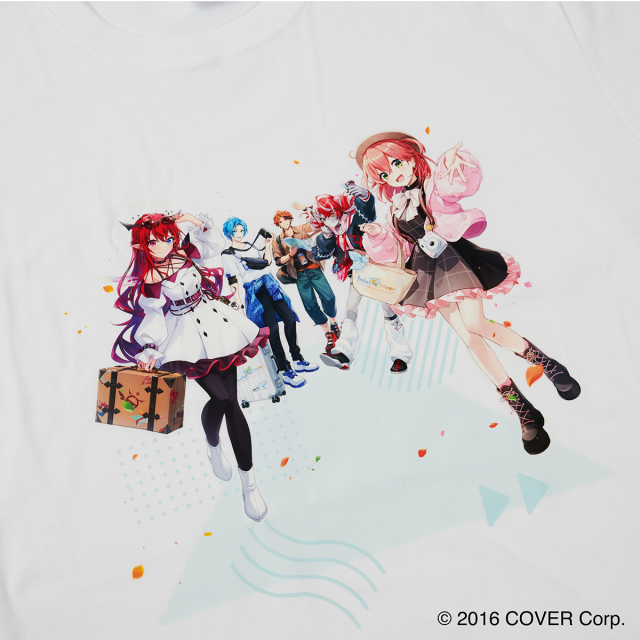 This T-shirt has a high-quality print of an original hololive Meet illustration that looks like a commemorative photo of the five Ambassadors on the front. The back has the hololive Meet logo and the motif icons of all five Ambassadors. The T-shirt uses a fabric that ensures a comfortable fit without being see-through.
■Luggage Tag T-shirt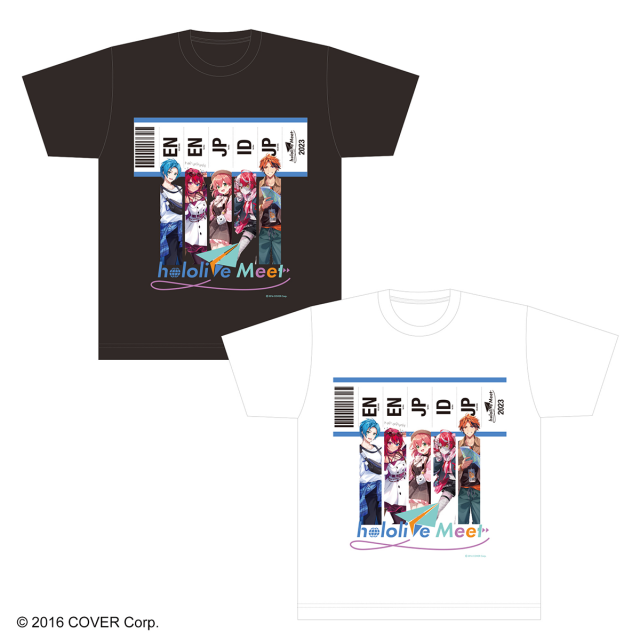 This T-shirt features a design that embodies the spirit of hololive Meet, with the five Ambassadors standing together against a luggage tag-inspired graphic in the background. This item exclusively will be available for sale at the Kinokuniya Bookstore booth at Anime Expo 2023.
About hololive Meet


hololive Meet is hololive production's brand that covers our activities such as stage events, convention activities, booth exhibitions, and other types of collaborations. Its goal is to bring a unique hololive experience through our talents and content to as many fans as possible. It is a celebration of the VTuber culture and a love letter from hololive production to you. For more information on hololive Meet, visit https://hololivemeet.hololivepro.com/about/
About Tokyo Otaku Mode


Tokyo Otaku Mode™ (TOM) shares with the world the latest Japanese pop culture news through its Facebook page, which has over 20 million likes, and sells products related to Japanese anime, manga, games, music, and fashion through its website, the Tokyo Otaku Mode Shop.
Please visit the corporate site for information about product development, shipping agencies, and our other businesses.
Corporate Website : https://corporate.otakumode.com